The New Schmoo
IMP GR PR & TICA LA SGCA & LOOF Int Gr Premier Amazolou The New Schmoo of Boucles
Red Tipped Silver Shorthair Selkirk Rex
Born 13th April 2008
Amazolou Polar Bear x TICA Champion Trueblu Kaleidoscope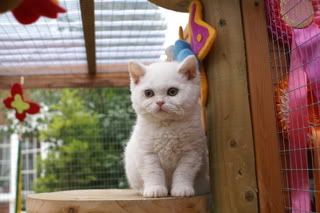 Schmooey has that wonderful type and nature which Zoe's kittens all have. Very confident and cute as a button he has joined me to be a show partner for Mister F now Quando is retired. Schmooey is now neutered after a successful kitten showing career and winning 2 ICs as an entire adult.
He won his first Premier Certificate at the Kensington Kitten and Neuter show 2009, one year after his debut kitten show! He was then made up in straight shows winning PCs from Mrs Wilding and Mrs Kaye at the Wyvern and CRAOV.
He has just won his first Grand Premier Certificate at the first attempt at the West Country Cat Club. And then won his second at the Shropshire 3 weeks later - my thanks to Charis White and Anne Gregory for these prestigious awards. Schmoo gained his title under Jane Allen at the Coventry and Leicester another 3 weeks later - gaining his two titles in 6 straight shows! To say I am over the moon is an understatement.
**2012 Update - Schmoo has been made up to Imperial Grand Premier with GCCF and his venture into TICA was phenomenal - he granded in only 6 rings (the minimum required) and sped through to Supreme in record time. He has also finished his first season with TICA as the 9th Best Alter in EW - not bad for only 8 days showing!!
Thanks again Zoe for letting me have another of your special curlies.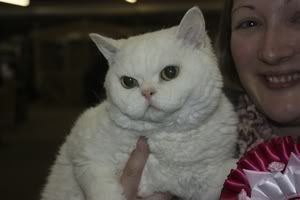 GRAND PREMIER Amazolou The New Schmoo @ the Shropshire Cat Club Show 2010
Photo by kind permission of Cat Planet and Sean Farrell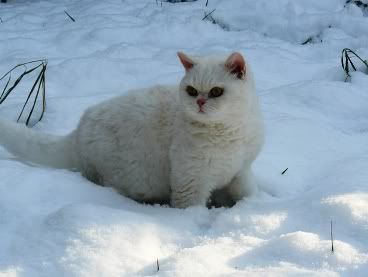 Picture above playing in the snow January 2010 and below by Robert Fox at 4 months old.